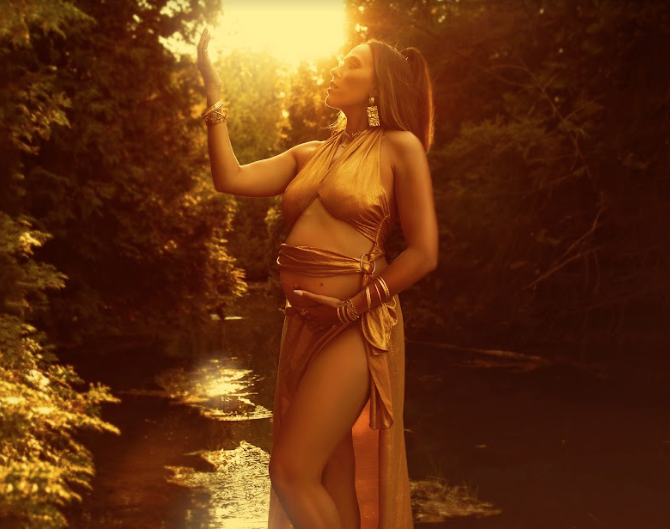 Image credit: Andrea Hunter Photography
Releasing her debut album Defying Odds, amidst two pregnancies, singer Raquel Kiaraa is an intriguing singer brimming with talent and potential. The singer always had a passion for writing poems and lyrics. This past year has seen her step out of her comfort zone and pursue a musical career. Although new to the scene, the songwriter has already done two sold-out shows in the span of a few months. Each track on this charismatic album explores the meaning of life, perseverance, and the importance of connection.  A coach, mother, and singer – how does this woman get this all done? We chatted with this inspirational act Raquel Kiaraa and found out more about her story.
Tell us about your highlights for the year
Being a badass superhero woman/mom and powering through to create this album. I have a 16-month-old and another due in February 2022, all while trying to learn music, practice, and develop my skills daily, cutting this album, writing, helping to produce and create my image and get this music off the ground. Oh yeah – opening a new branding and videography studio for artists while doing my full-time job running my gym and being a coach. It's been a year, but I wouldn't trade any of it; the goals are clear, and the more they come to fruition, the more fuel I have to put the fire back into continuing to make this all happen!  I stepped into this industry knowing exactly who I am, why I am doing this, and the messages I want to share. It was vital for me to step into a voice, a performer, and an image that was mine, created by me, for me inspired by my experiences. I have danced with the good and the bad and made it an interesting and essential part of my story and image. But I own it as mine, and I share it as all of ours to receive inspiration from. 
Most of us go into things without sitting with ourselves and asking hard questions. We go into life without ever developing a solid relationship with ourselves, which is the key to success. Being rooted in your purpose and who you are as a person will allow you to stay true to what your goals are.
That comes at different seasons and parts in our lives, but when we get comfortable with all the uncomfortable parts of ourselves and own who we are, no one and nothing can strip us of it. That is powerful.  That is the power I want to channel in every song I write and sing. I know who I am; here is my story, that is a major highlight- stepping into your power.
If you could paint a picture of your sound, what would it look like?
My album cover captures the exact sound imagery – what you hear is what you see in the album art.
What are the 5 albums and artists that have influenced you the most?
Alanis Morisette – Jagged Little Pill, Anything Leonard Cohen, Avril Lavigne – Under My Skin, Sara Bareilles – Amid The Chaos, Frank Ocean-  Blonde, James Blake – The Colour in Anything, Amy Winehouse –  Back to Black ( sorry this was seven, so hard to pick five.)
What other artists do you really like at the moment and why?
Rosalia – Her whole vibe. She's got such a trailblazer vibe that I dig.
FINNEAS – A true creative and a word man, his lyrics are so powerful and his music moves.
Chris Stapleton's Traveller Album – Literally one of the best concerts I have ever been to, he gives me chills – all soul – he knows how to emote and I respect his songwriting talent so much.
Daniel Caesar  – Another vibe.
 Ed Sheeran – He's on another level of creating and I love the soul, pain, and depth he gives in his music…'Make It Rain' (one of my all-time favourite songs of his).
Patrick Watson – Such a chill, calm and cool artist. A true thinker and lyricist and my go-to for long drives and if I want to de-stress and get lost in lyrics.
 LORDE- I love her attitude and confidence in her music. she has got grit in her tone that I really admire.
How did you get to your first gig ?
There is a bit of a back story to this one……I gave wings to my music in late 2018/early 2019, having never sung or played an instrument prior. At 32, I learned how to sing and play the piano for the first time to transform my poetry into music, the same age as my muse/role model, Leonard Cohen, when he began making music. I had never sung anywhere nor understood music whatsoever. Only the fact that I love to listen to it. The only thing I did know was that I  always loved to write, and I had books upon books of poetry I had written but had no idea how to turn them into songs. I wanted to create a goal so out of reach that I knew there was no room for the "impossible" in my life when I accomplished it. I coach people every day in my job as a full-time coach to believe in the possibility of where they can take their bodies and minds. I've always been one to want to lead by action in my life, by implementing my coaching practices on myself. 
 By March of 2019, I was motivated and determined enough to turn my goals into reality. By simply believing in the power of my music, I assembled a band of accomplished musicians. After only two rehearsals, some vocal lessons, and music sheets for 13 original songs, I produced two sold-out 250+-seater performances, selling my tickets and running my publicity single-handedly.
Tell us one interesting fact about yourself that no-one would expect.
I only started singing three years ago and learning piano basics to understand the writing and chord process. I decided to learn because I wanted to give my poetry life, I wanted to create songs.  Before this, I had never sung or played a day in my life outside of the shower and car; I just decided that I had to put my coaching practices into action in my own life and turn the impossible into possible. I have over 200 poems, and I had no musical background to transform them. Leonard Cohen is my greatest inspiration, as he shares a similar experience of getting into the music industry. I wanted to make an impact and create a broader platform to help empower others towards their goals. The heart and soul of this project are to create the belief within others to go for their impossible.
What do you consider your biggest achievement so far?
This album, my music, giving these dreams wings and having the world tell you you are meant to be here, all while creating and producing a tiny human in the process. These last two years were all about turning the impossible into possible, both as a musician and a mother. It's not that I didn't have the belief that I could get here as a musician; it is the fact that you are a part of this completely crazy far out of reach goal. You throw motherhood into the mix, running your businesses and then you make it all happen, and the world receives it with open arms and tells you "hey you are good enough to be here – we believe in you and we dig it!" All that work you put into your dream and you are front and center to see it come to fruition.
Famous last words?
You never have to be the most talented person in the room; you only have to be willing to work harder than the most talented in the room. The impossible is always possible with a commitment to work for it #defyingodds.
Album track 'Running' features on the Spotify playlist POP_GROUND.fm
Follow Raquel Kiaraa:
Facebook / Instagram / YouTube / Soundcloud / Spotify